Gong Food Korea Satisfies Everyone's Taste Buds with 100 Percent Real Korean Perilla Seed Products

2019년 01월 10일 17:17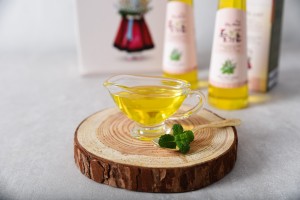 Gong Food Real Perilla Oil. Gong Food is an agricultural association corporation in Boeun, South Chungcheong Province, South Korea. It produces perilla oil, perilla seed powder, perilla seed caramel and crunchy perilla seeds with 100 percent Korean perilla seed. Gong Food Perilla products were very well received at fairs in South Africa, Kenya, Los Angeles (USA), Las Vegas (USA), Hong Kong, Singapore, China and Japan last year.
고해상도 사진보기 »
Gong Food Korea were very well received with its Perilla products at fairs in South Africa, Kenya, Los Angeles (USA), Las Vegas (USA), Hong Kong, Singapore, China and Japan last year.
Gong Food is an agricultural association corporation in Boeun, South Chungcheong Province, South Korea. It produces perilla oil, perilla seed powder, perilla seed caramel and crunchy perilla seeds with 100 percent Korean perilla seed.
Gong Food extracts oil by cold-pressing naturally dried Korean perilla seeds within 40 degrees of Centigrade to avoid damaging nutritional quality.
Perilla seeds contain a quantity of vitamins and unsaturated fatty acid, and also exhibit one of the highest proportions of omega-3 fatty acids, which is over 60 percent. Their medicinal benefits include brain development in children, antiaging effect on vascular system, reduction in blood cholesterol, dementia prevention, constipation relief, weight loss, skin care, anti-carcinogenic effects, immunity enhancement, anti-allergenic effects and anti-inflammatory effects.
"Real Perilla oil, finely ground perilla seeds, caramel perilla seed and crunchy perilla seeds are in demand worldwide," Gong Gye Soon, chief executive of Gong Food, said. "Foods made from Korean perilla seeds are Koreans' pride. I'll try harder to make Gong Food products consumed in every home for the sake of Korea's agriculture and a healthy life of everyone in the world."
For more information, visit
www.gongfoodkorea.com
or
www.facebook.com/gongfoodkorea.
이 뉴스는 기업·기관·단체가 뉴스와이어를 통해 발표한 보도자료입니다.
안내 »